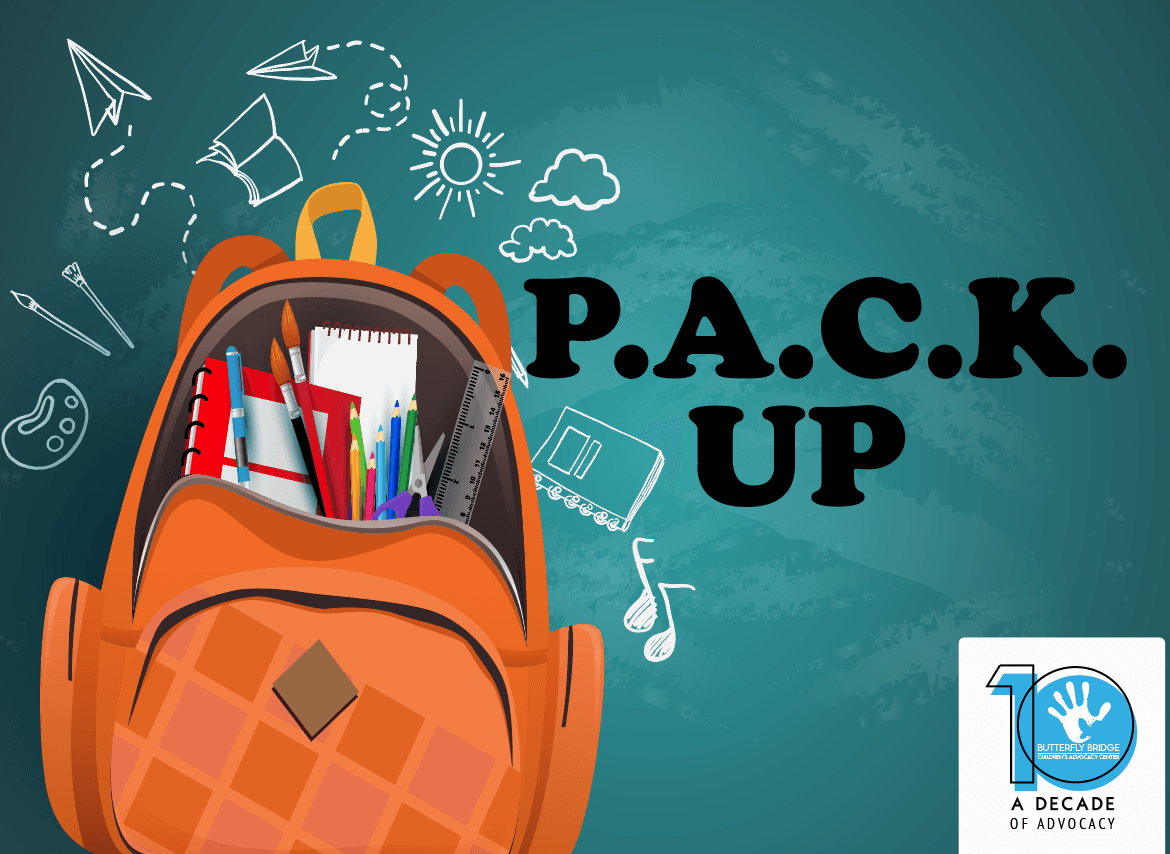 P.A.C.K. UP! 
Back to school is quickly approaching and with everyone scrambling to get school supplies, new clothes, and the latest shoes; before we know it it'll be back to drop offs, hasty trips to bus lanes, and the infamous first week of school PAPERWORK! 
This also means its back to the constant ripping and running from school to practices, recitals, drive-thru food pick ups, and homework in the car. We will once again settle into the routines of school: which means kids will be coming in with bookbags loaded with wrinkled papers, unsigned permission slips, old snacks, and books. With the demands of life happening all around us, it is important that parents/guardians don't forget to simply talk to your child. In a society where we are constantly checking off our to-do list, I urge you to make conversations with your children a priority. When doing so, I urge you to think about the acronym I am using today, P.A.C.K. 
Patient. I understand that children don't always have the best timing and may even take forever to tell you about a situation that occurred at school or life in general, but it is important that you are patient with them. Allowing them to see that you are giving them the space to freely express themselves (no matter how it may come out) may help the child feel as though they can come to you without hesitancy. If your child is not ready to discuss the situation at that moment, give them space and remind them that they could come to you when their ready. Saying this helps to take the pressure from them and reminds them that they have choices. 
Attentive. In a social media dominant society where we can be consumed by the latest Facebook post, catching up on a favorite TV show, or finishing up last minute work demands; it is easy to be distracted. Whether in the car or at home there is always something or someone grabbing at your attention. It is important to know that when your child is coming to speak with you, it is important to try to remain attentive. Attentiveness is not only by listening with our ears but with our eyes through eye contact. Looking at your child and watching for nonverbal communication can be very telling. Also be mindful of facial expressions, It is important that even if what is shared with you is shocking, disgusting, disheartening, etc. that you try to control your facial expression and voice inflection. After all, you never know how much courage it took for them to come to you. 
Compassionate. Be compassionate. As I stated previously, you never know how much courage it took for your child to come to you. It is important to lead with compassion; show them that you care and use reassuring statements such as: ("I am here for you", "We will figure this out together", "No matter what, I still love you"). Sometimes even sharing some of your mishaps and mistakes can help the child understand that what they are experiencing is normal. 
Kind. This one should be self-explanatory. Kindness goes a long way. In this instance, I would challenge you to make this more personal and that is simply: BE KIND TO YOURSELF. You are constantly doing for others, attending to someone else's needs, and meeting the demands of others. But when is the last time you did something for yourself? You can't continuously pour from an empty cup, it is important to take some time for yourself and it doesn't have to be anything big. Sometimes it's taking a few extra moments in the car before going in the house, reading/or listening to a good book, grounding yourself by walking in the grass barefoot, calling that babysitter for the night, or even eating that cookie you've been avoiding so you can fit in a certain outfit. Self-care looks different for everyone but it is exactly what is says: SELF CARE. So do yourself a favor and put yourself first once in a while. 
While I understand that these practices may not be practical for everyone, I want to encourage you to take the opportunity and try it! Start small, a little conversation can go along way. 
Cheers to the Hustle and Bustle of Back to School! 
Christie Hall 
Therapist/ Forensic Interviewer